Using 21st-century technologies as both medium and subject, these artworks use technology to highlight issues of land, biodiversity, and climate change.

In this project, technologies and software are collaborators employed as naturalists to observe, design, and craft archives from their environments. When applied to organic matter, infrared scans create an abstracted shell, one where the software manufactures artifacts of misinterpretation. These digital objects are overly saturated, bulbous, disintegrating, like conglomerate pieces of plastic detritus washed onto a riverbank after a storm. To FDM print these objects is to turn them into containers—exoskeletons that hold the metaphysical power to embody what remains. Long after the original subject wilts, dries, or decomposes, the FDM holds its form like a funerary mask, a memento, or a portal to a spirit world. The objects morph between microcosms, topographies, and fluid landscapes. They come into being, disappear from being, and represent a removed, artificial, and distorted relationship with the natural world.

Scroll to see artworks in reverse chronological order.


An Exhibition of the Buffalo Bayou Collection
Lawndale, Houston, TX, February 8–May 1, 2021
Installation Shots, 3D printed bioplastic, pigmented powder coat, found objets, 1080p HD videos, Lawndale, Houston, TX; photo by Nash Baker, courtesy of Lawndale
Installation Shots, pigmented archival prints of compressed point clouds, editions of 1, 1080p HD video, Lawndale, Houston, TX; photo by Nash Baker, courtesy of Lawndale
"Each component of her presentation contains iterations of 3-D scans of objects taken from the Buffalo Bayou vicinity, such as styrofoam, sand, brick, and shale. Subverting the scanning technology's intended use, Veselka strips the detritus and natural elements of their original context to create airy, glitched, compelling, and eroded echoes of the originals. ... Rendering these objects often unrecognizable, Veselka celebrates the flaws inherent in technological transference, likening the process to the work's intangible and fragile subject matter."
– Curator Patricia Restrepo, excerpt from
exhibition pamphlet
"Veselka offers juxtapositions in her works: Some are found objects, others are representations of those objects that have been processed by a 3-D scanner and printed or placed upon one of three video monitors. The duality is intriguing in its mix of artificial and organic. A dragonfly she found just outside Lawndale rests upon a pin, and a tiny frog appears perfectly preserved. Her prints take other natural objects — such as a bundle of flowers — and break them into a matrix of tiny squares. "
– Andrew Dansby, excerpt from
Houston Chronicle
" Holly is deeply concerned with our relationship to nature. The objects themselves, while beautiful, tend to have somewhat of a melancholy air to them, especially when juxtaposed with more tangible, human made objects, such as this metal spoon, the iron, a rock from the Bayou. The objects that she's chosen to create with her printer, like this series of flowers here, have a slightly wilting effect. They are organic objects that are decaying."
– Stephanie Mitchell, excerpt from Houston Public Radio interview,
Houston Matters
artist studio program
Residency
Buffalo Bayou Collection

As a resident at Lawndale, Veselka used 3-D scanning technology to study objects from the Buffalo Bayou—the only remaining, semi-natural, flowing waterway in the city of Houston. It's sediment holds organic and inorganic remains—both natural and not—that span thousands of years. Collecting here represents an attempt to see into this vast container of geologic time, looking for markers of anthropogenic change. In doing this research, Veselka developed a deep sense of loss. Here on the bayou's banks are the survivors of a once vast, beautiful, and intricate wilderness. The night herons, pileated woodpeckers, longleaf pines, and magnolias feel like distorted visions of the past. They are ghosts to remind us of what we've lost.










Video by Ryan Hawk courtesy of Lawndale

herbarium
Archive
Buffalo Bayou Collection


Thistle, 2021, HD video edited for web, courtesy the artist
This collection of moving images and prints represent a digital herbarium. As moving images, the objects come in and out of being. Light and airy, they are as temporal as the objects themselves. The 2-D prints are compressed images, a digital process analogous to the pressing of flowers. The paper itself becomes the specimen or artifact.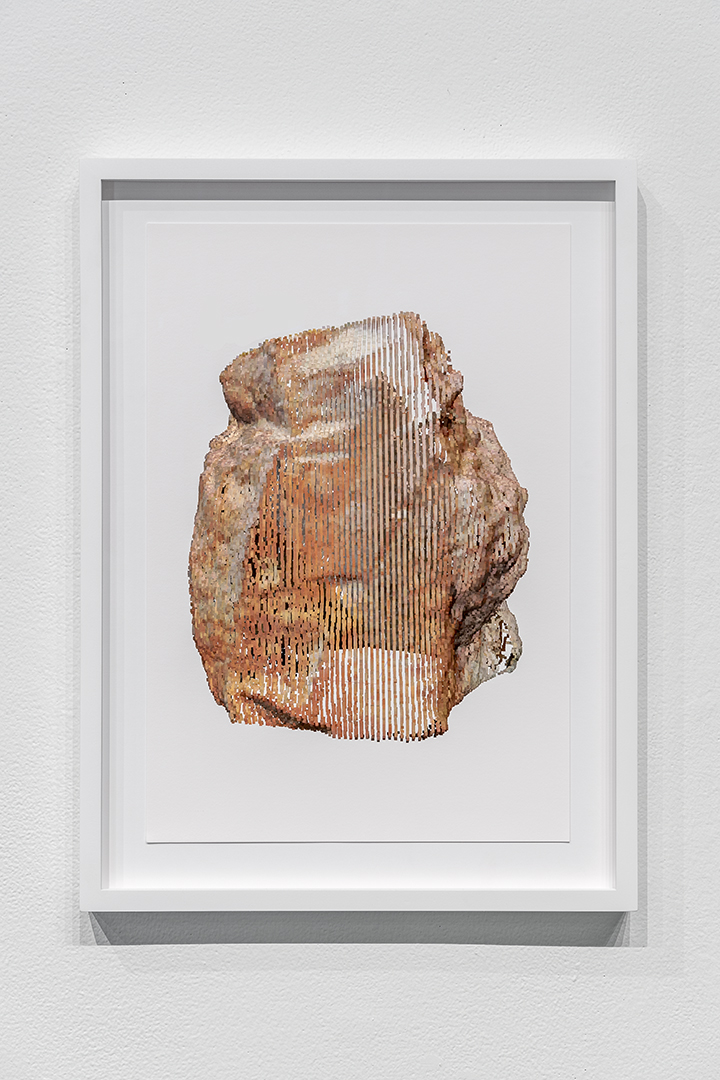 Brick
, 2021, archival pigment print on cotton rag, 22x16 inches, edition of 1, photo by Nash Baker, courtesy of Lawndale
fauna
Archive
Buffalo Bayou Collection
(top left)
Ibises
, 2021, 16x11x4 inches, 3-D printed PLA bioplastic with pigmented powder coat, found bayou sediment

Originally scanned at the Houston Museum of Natural Science, the fauna collection includes 3-D printed objects and moving images. The 3-D prints carry sediment from the bayou. Similar to urns, they hold the remains of an ecosystem. Through the scanning software, the moving images become abstracted, plasticized. These digital objects inhabit a virtual space far removed from the original's habitat.



Fauna, 2021, HD video (web version)